Useful Links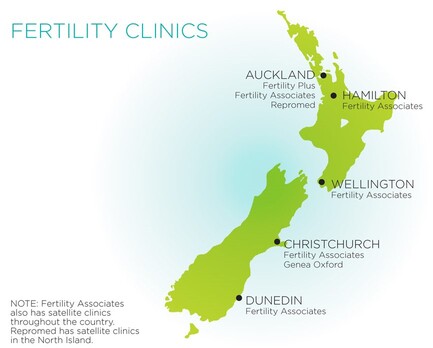 Fertility information and services websites

Please note that a listing does not constitute an endorsement by Fertility NZ of this service provider.
Acart - Advisory Committee on Assisted Reproductive Technology 
Acupuncture and Infertility
Website of Dr Vitalis, acupuncturist specialising in fertility 
American Society of Reproductive Medicine 
Provides information on infertility, menopause, reproductive surgery, endometriosis, and other reproductive disorders.
Andrology Australia 
Information on men's health
Baby 4 U
Baby 4 You specialises in providing home-based fertility and pregnancy related products, general education and support to couples trying to conceive.
Ecart - Ethics Committee on Assisted Reproductive Technology
Endometriosis New Zealand
Represents the tens of thousands of girls, women, and those assigned female at birth, with endometriosis and persistent pelvic pain in NZ. They provide awareness, information and support.
Growing Families
A consumer-based non-profit organisation focused on bringing together surrogates, donors, intended parents, and families to network, share their stories and stay informed about best practices in surrogacy and donor arrangements.
International Council on Infertility Information
Dissemination (USA) – Provides information and discussion forums.   
IVFlings
Information for those conceived with the assistance of IVF

Insight Endometriosis
Endometriosis awareness, information and support, particularly in the Waikato / Bay of Plenty regions.
Kiwi Families 
Although this site predominantly offers parenting advice, it does have a 'Fertility Corner' which provides information and a fertility chat room.
Miscarriage Support Auckland Inc.                                               
Provides information and offers regional support to women who have lost a baby through miscarriage.
Mother Well Natural Health
Multidisciplinary Natural Health Care Centre specialising in fertility, women and children's health
Natural Fertility NZ 
Educate woman and couples to recognise their signs of fertility using the Sympto-thermal Method, for conception, fertility awareness and to avoid pregnancy.
New Zealand Early Menopause
For those diagnosed with Premature Ovarian Failure, Premature Menopause or Early Menopause. 
New Zealand Sexual Health Society
Advocate and promote sexual health for all in New Zealand 
Northern Region Fertility Service (NRFS)
The Northern Region Fertility Service (NRFS) provides coordination of referrals for publicly funded fertility services for the Northern region (Auckland, Waitemata, Counties Manukau and Northland region). 
Nurture
A charity that supports research into reproductive health. Its team of scientists and researchers try to find new ways to predict and prevent reproductive problems and improve treatments for couples unable to conceive or carry a child safely to term.
Quitline NZ
Resource to help you quit smoking
Quitday 
Resource to help you quit smoking 
Quit Smoking Community 
Resource to help you quit smoking  
Resolve
A not-for-profit infertility support organisation based in USA with comprehensive information and resources on infertility
Silver Ribbon Foundation
The Silver Ribbon Foundation has formed an informative and supportive website for women who are experiencing fertility challenges due to gynaecological cancer.
Smart Fertility Choices
Kym Campbell's blog/website is dedicated to educate women on all things fertility. 
The Jean Hailes Foundation
For Women's Health
The Pelvic Pain Support Network
UNSW
Fertility treatment cycle results data for Australia and New Zealand
Weight Loss 
The Heart Foundation's information on 'A Healthy Weight for Life'. Also look under 'Exercise and Fitness' on tips for getting active. For accessing support and advice for weight loss and increasing physical activity ask your Doctor about the 'Green Prescription'.
Women's Health Action Trust
Women's Health Action is a charitable trust which aims to provide women with high quality information and education services to enable them to maintain their health and make informed choices about their health care. (Many good articles under 'infertility' using the search tool)
Your Fertility
Australian information site with a focus on preconception health
Yoga Mama
Specialised fertility yoga in Auckland
Information for people with unexplained infertility
International Institute of Restorative Reproductive Medicine